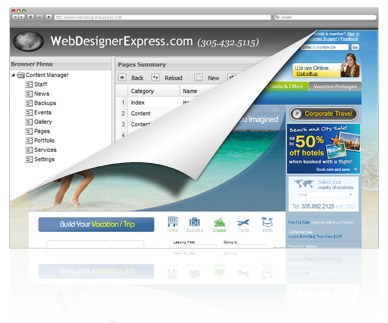 Back-end Administration Platform
Back-end administration platform, also known as website back-end, means freedom for the site owners, the platform allows you to control every aspect of your website with minimum effort and saving a very good amount of money. No more webmasters needed, every person, with a little knowledge on computers can update and maintain a web site, if you know how to write an email, you are 100% capable of maintenance and update of your website; that is our guarantee.
Our Back-end administration platform is built following the needs of our customers; we provide and create all the code by scratch, no copies, no code from other applications and no security issues. All critical information, such as credit cards information, passwords, personal information, client's information and more is treated very carefully to avoid any security failure. The modular aspect of our back-end administration platform enables us to add, modify or update any component of it without affecting any other aspect of the site. You can grow your website based on the real needs on any giving moment.
The Back-end administration platform is compatible with any type of online software. Customer Care Center, Shopping Carts, Directories, Gateway Integrations, Blogs, Content Manager System, Newsletters System, Galleries, Calendars, Events and more are very often powered by this type of application which capabilities are beyond the imagination. We consider that every person, association or company should have these possibilities. Keeping updated daily will keep you ahead from your online competitors.

The price for this type of application is very affordable and it is truly the easiest and most inexpensive way to update and maintain a web site once it is completed.
Please contact us and ask for more information about our back-end administration platform, we will be more than happy to answer your questions.